You know your customers very well. Right? I am sure, you must. After all, the customer is the focal point for any business and yours is no different. Perfect! So let's explore the importance of buyer persona for business in some more detail!
Do you think the target market and buyer personas are the same? The good news is you are not alone.  Not so good news, you are wrong!
Creating an ideal Buyer Persona may be the most underrated but the most relevant activity for a business. An activity, which should form the base of your entire go-to-market strategy. It is also a widely misunderstood concept by interchangeably being used as an ideal customer profile or target audience or unique buyer profile. It is none of these and a bit of each.
Buyer Personas are a subset of your Target segmentation
Targeting your customer forms the basis of customer segmentation wherein you identify a certain set of consumers who will be the perfect fit for your product or service. These are the people who will have paying capacity or locational or some other advantage, as may be required for your business. While Buyer Personas are created to zoom into the specific member from the customer segment who is being targeted. They are much more focused and detailed.
Go specific. Create your own template. A winning persona of an ideal customer has to be very descriptive, very specific. Your marketing team can start with creating a template relevant to your business. There may be multiple personas created, as required by the business.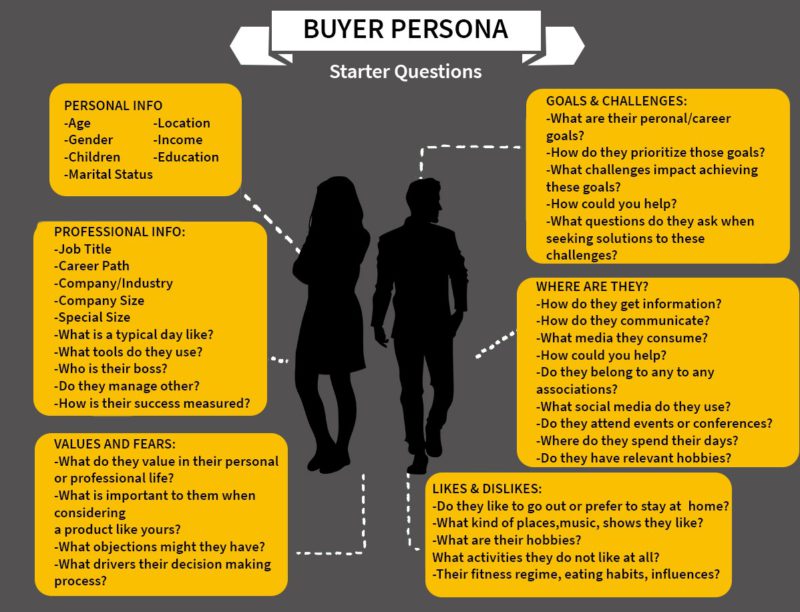 Get the maximum value of money with micro-targeting: With digital space encroaching almost all other marketing mediums, businesses do have the advantage to be visible to a much wider audience. However, to get most of the penny invested, it makes more sense for a brand to focus all its efforts on a specific group of people who are most likely to convert as potential buyers. A recent survey by Act-On showed some interesting insights on identified buyer personas for a small enterprise:
900% increase in length of visit on the webpage
171% increase in marketing-generated revenue
111% increase in email open rate
100% increase in the number of pages visited.
Buyer persona and customer journey. Buyer Personas are important at every stage of a customer's journey. Each stage will have its challenges and the Persona details will give more insights to overcome those challenges. What would make prospects move from the awareness stage to the consideration stage? What is the contemplation going in their mind at the consideration stage? Why they may be apprehensive at the decision stage?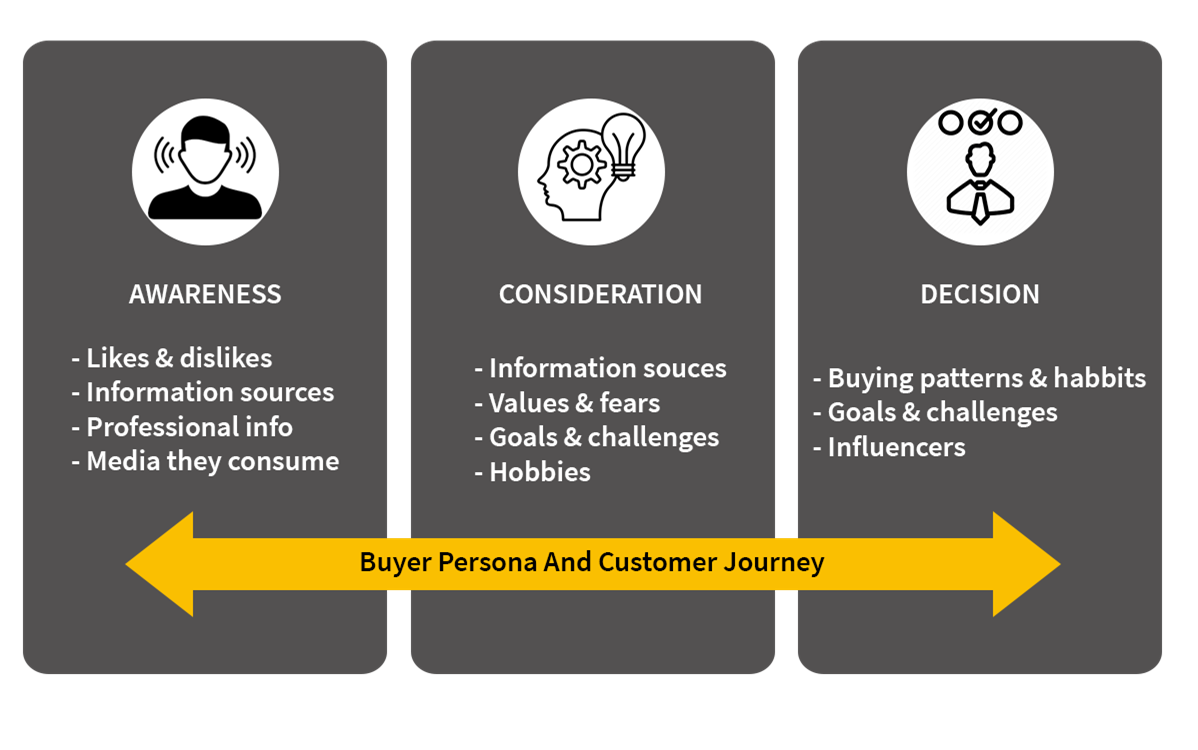 Creating the personas relevant to your business may not be as difficult as it may look like.
Here are some starting points:
Put yourself in the customer's shoes and start creating personas relevant to your product or service. The only flip side is this may still be intuitive and may not give you complete insights.
Take up informal research amongst colleagues, friends & family- Start with creating a detailed questionnaire of what you are seeking in your ideal customer concerning your brand/product/service. Get responses from your set of people and zero in on few desired profiles. Caution: Responses may be a bit skewed since people would know the survey is not anonymous.
Hire a research agency for a market survey. This may be your best shot if you are a new entrant but with some cost attached.
Study your existing customer base by putting some data analytics tools. The best and most cost-effective way is to look inwards.
Hire an external agency like a business consulting service that is experienced in creating such personas and can give more insights to you out of their experience.
Follow your competitors and their customers on various mediums. This will also give you some insight clubbed with some other resources.
If the What, Why and How's of creating a winning persona is clear then you might have already got an idea of Where all this may be used:
For creating your brand identity
Developing sales pitch
Segregated customer communication
Product/ service specific communication
Blogs/Content
Go-to-market strategy
PR/Media
Social Media Marketing
Bigger enterprises typically have an in-house marketing team to focus on each of these aspects. Small businesses and Start-up are increasingly relying on business consulting services to outsource their functional or business requirement, depending on multiple factors.